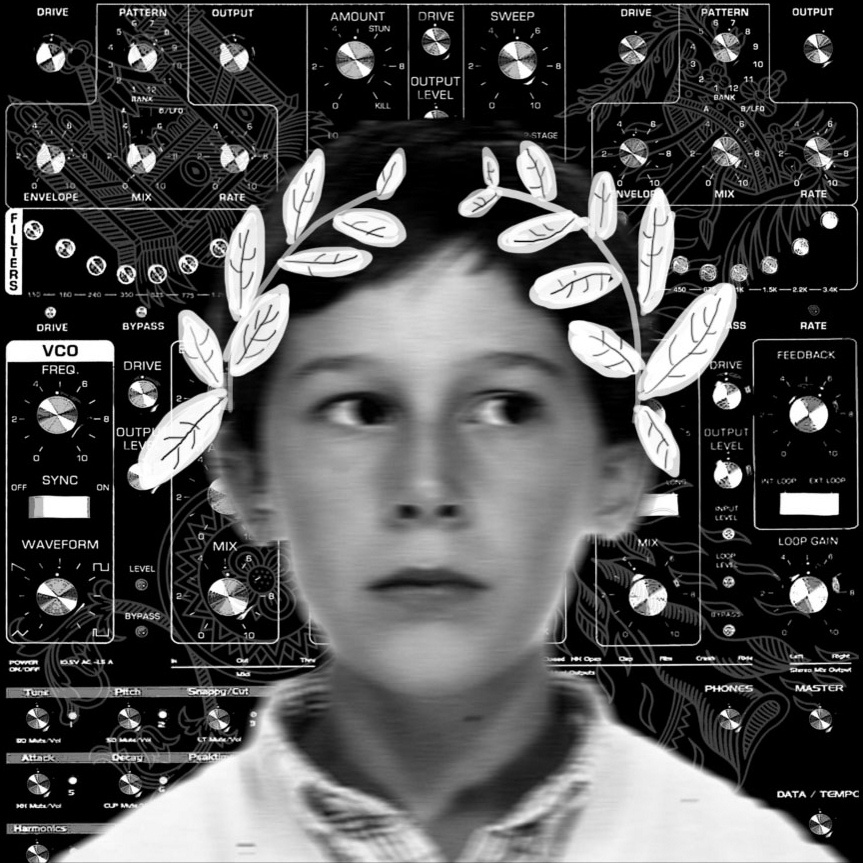 Hi, my name is ALESSANDRO FIORIN DAMIANI, I was born in the year of Monkey, under the Virgo sign and these are my know-hows: 'musician' (..but I prefer 'melonaut'), 'music therapist' and 'tarotist' (view ARCANI). In the second half of the 90s I began to experiment with the analogical language of sound and in 1999 I co-founded the DENSO art movement. From 2002 I became interested in the therapeutic aspects of music, especially from the 'ethno-psychiatry' point of view; after, I began to share my experiences through workshops in the field of mental health and I call it 'psycho-melodic' approach (aka PSICOMELODIA). From 2010 I have taken part in a scientific team (view SOUNDWAVE), discovering very interesting data on the influence of soundwaves in haematic cortisol. From 2011 I have also developed applications that could help creative people to approach the culture of analog synthesis by basic and cheap digital experience (like PURE). From 2013 I live and work in Trieste with my special wife GOGA MASON and the spirit of my loving cat NINETTO.
I co-founded the projects A.F.A. Sound System, AL-GI Duo, BOB III, INSIEME DENSO, KIMIKOVA, KRAJOBRAZ, KRISALES, LUNAR Experience Group, MOVING SOUND ENSEMBLE, TAI Trio, VAM Trio & VIDEO ANIMAZIONI VIVE. I played with BASHMANTAN, MATTEO CASTRO, DANIEL DOUGLAS, GBUR, FILIPPO GIUFFRÈ, IGI Trio, IVAN PILAT, IMPROVVIRUSOUNDEXPERIENCE meets WILLIAM PARKER, JEAN JEAN, JOOKLO, KONGROSIAN & OLGA MATHEY. I played 'for' SHU LEA CHANG, YONEL CASTILLA SERRANO, REBECCA D'ANDREA, DELTAPROCESS, BRICE DESAULT, STEFANO GIUST, ADRIANO JURISSEVICH, KATATONIK Sound System, LOREDANA MANFRÈ, GIORGIA MINISINI, MORPHOSIS & TEATRO SATANICO. I 'opened' gigs of COLOSSAMITE, THE FLYING LUTTENBACHERS, LAIBACH, TONY LIGHT, ANDREA MASSARIA, COBOL PONDIGE, Dj SPOOKY, US MAPLE & WITHEHOUSE. Apart from DENSO, I published for CLEUP, GARAGE Records, Libreria PRIMORDIA, RESSONUS Records, SETOLA DI MAIALE, SOTTOMONDO Edizioni & WORLDISORDER.
And here is a part of the places I went through and with whom I was lucky enough to be able to interact on a vibratory level: Animateka (LJ), Mosaico (TO), Auditorium Parco della Musica (RM), Auditorium Santa Margherita (VE), Bilbolbul (BO), Bussana Vecchia (IM), C.S. Brancaleone (RM), C.P.A. Firenze Sud (FI), Castrum di Serravalle (TV), Centro Stabile di Cultura (VI), Chiesa di Santa Croce (VI), Cinema Teatro Volturno (RM), Circolo Hilal (TV), Congresso Post Industriale (PO), C.S.O.A. Cox 18 (MI), Cinema Beltrade (MI), Corona del Re (TV), Creative Forum (EGY), Ex Carcere Borbonico (AV), Far East Film Festival (UD), Flussi (AV), Fondamenta della Misericordia (VE), Fondazione Bevilacqua La Masa (VE), Forte Prenestino (RM), Hangar Teatri (TS), Kernel Festival (MB), Laboratorio Morion (VE), Lago Film Fest (TV), Live Performers Meeting (RM), Macao (MI), Macro (MI), Magic Bus (VE), Manifetture Knos (LE), Monstra Festival (PT), Nova Cinama (BE), Old Vic (UK), One Love (MI), PAN (NA), C.S.O. Pedro (PD), Piazza della Pomposa (MO), Plan 9 (PD), Revoltella (TS), Sala Comunale di Erto (PN), Scugnizzo Liberato (NA), Sherwood Festival (PD), Soyuzmultfilm (RU), Spazio BL.itz (BL), Stazione di Topolò (UD), Temporary Autonomous Art (UK), Teatro Comunale (BL), Teatro del Lido di Ostia (RM), XM24 (BO), Zona Bandita (VE).